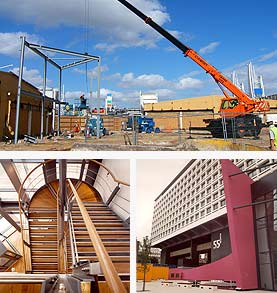 About Ivanhoe Forge Ltd.
Ivanhoe Forge Limited is well-established sub-contractor in the steel fabrication industry specialising in structural/secondary steelwork, staircases, balustrading and metalwork.
Having been established in 1961, becoming a Limited Company in 1971 we initially specialised in gates, railings, fire escapes and agricultural metalwork.
Our commitment to providing a greater range of services for our clients and desire to broaden or client base has resulted in the continual development of our workforce, workshops and services.
We now predominantly work in the construction industry and are able to offer a complete package of design, detailing, fabrication and erection/installation. Our work includes structural steelwork, utility and feature staircases and balustrade in mild and stainless steel, on site and offsite fabrication and welding.

Home | About Ivanhoe Forge Ltd. | Expertise | Portfolio | Accreditation & Quality | Team & Facilities | Contact