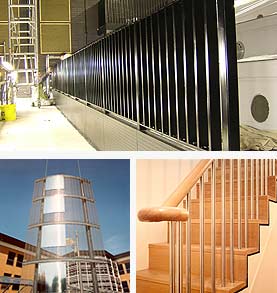 Expertise
At Ivanhoe Forge we have a wide range of skills and expertise that will enable you to complete your job in complete confidence. Our particular specialisms include:
Mild Steel Balustrades / handrails

Stainless steel Balustrades / handrails

Secondary Steelwork – including windposts, trimming, brickwork supports etc.

Structural Steelwork – beams, columns, rafters, roof trusses

Feature Staircases – including timber treads, glass balustrades, stainless steel and aluminium, high quality finishes.

Utility Staircases

On-site welding and fabrication – available on a dayworks basis to include all aspects of welding, burning, cutting and erection.

Complete design, detailing, fabrication and erection/installation service

BIM compliant enabling smooth multi-trade project delivery
We employ comprehensive Quality Management Systems to ensure your project is exactly as required.
Home | About Ivanhoe Forge Ltd. | Expertise | Portfolio | Accreditation & Quality | Team & Facilities | Contact